Factory direct sales new bar nightclub special atmosphere bottle light support custom led sticker
Product Detail
Product Tags
| | |
| --- | --- |
| product name | Led sticker |
| Size | 6*6*0.3cm |
| Material | EVA |
| Battery | 2*CR1220 |
| working time | 48H |
| weight | 0.04kg |
| color | red, white, blue, green, pink, yellow |
| logo customization | support |
| Application place | bar, wedding, party |
| Control method | Flashing fast - flashing slowly - always on - off |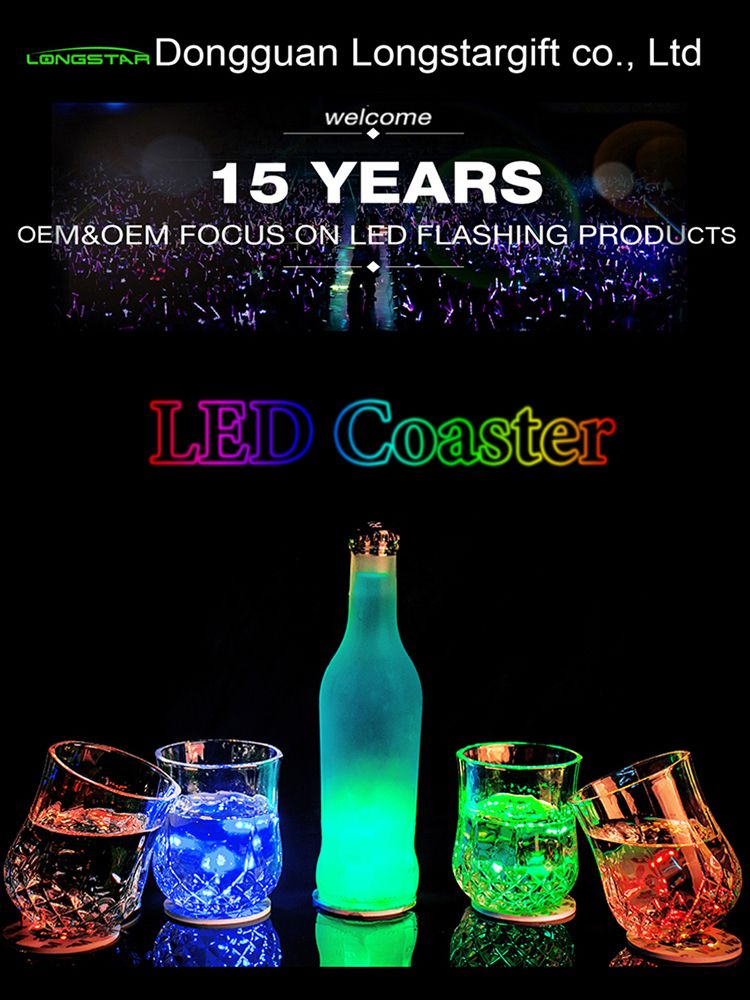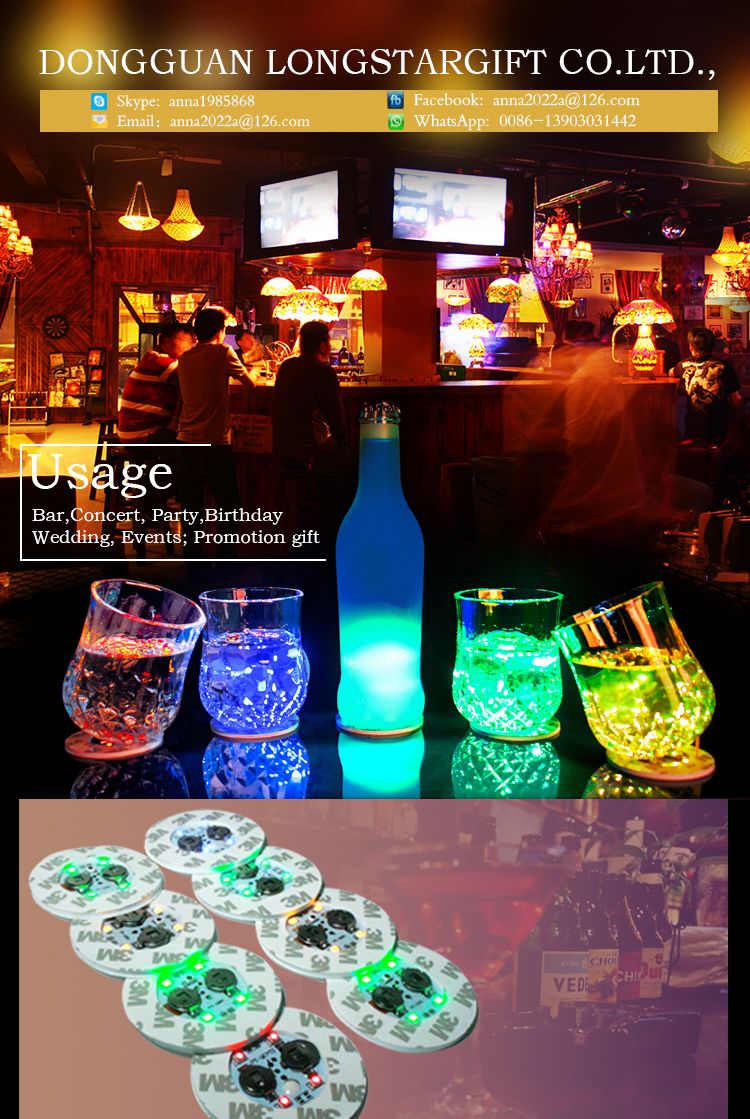 It is specially designed for entertainment places such as bars, so that the atmosphere of the scene reaches its peak. Tear off the sticker, stick it on the bottom of the wine bottle, and operate the switch to make the whole wine bottle look different. Support customization of size, logo, and shape.
You can't throw a party without it. This product can appear indoors or outdoors at will, and its features are sure to make your party special.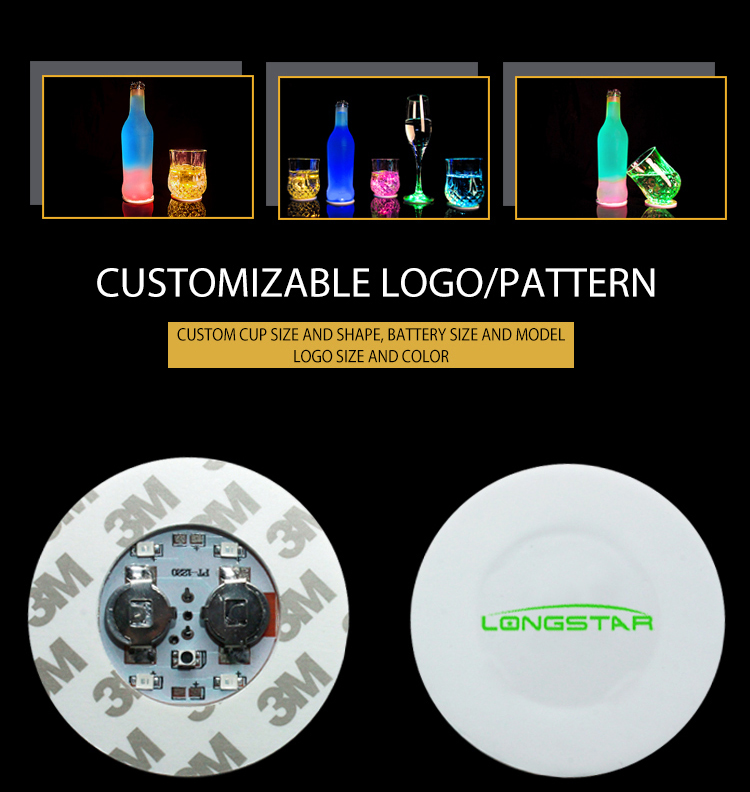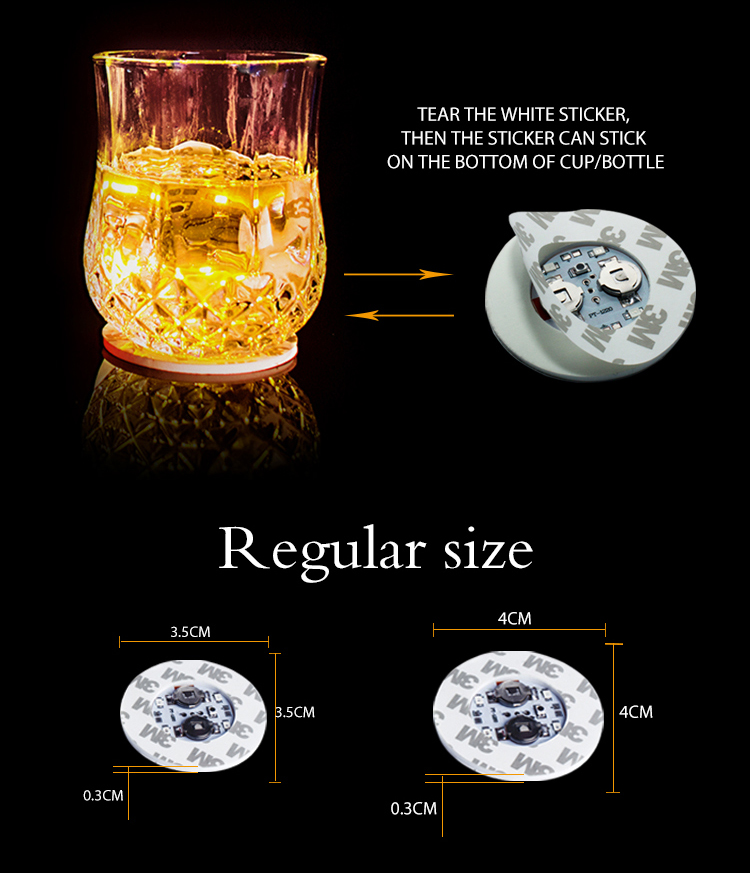 Made of EVA material, it is cheap, environmentally friendly, light and durable. The printed logo is easy to maintain and will not fade. We will provide you free samples until satisfied.
It uses pad printing technology. The biggest feature of this printing technology is its low price, low cost and stable effect. It reflects your logo to the fullest without any omissions.
Normally the product will be dispatched within 5-15 days. If you have special requirements, you can explain to us in time when you place an order.
Equipped with 2*CR1220, the battery life can reach 48 hours, which fully guarantees excellent performance at parties. Immerse everyone in LED lighting from start to finish.
The production and manufacturing process of the products has a strict management mode, and at least 4 quality inspections are passed to ensure that each product is in line with CE and ROHS certification.
1. After unpacking, tear off the protective film of the product tape
2. Place the product on the bottom of the bottle and secure it firmly.
3. Operate the switch to select your preferred blinking mode.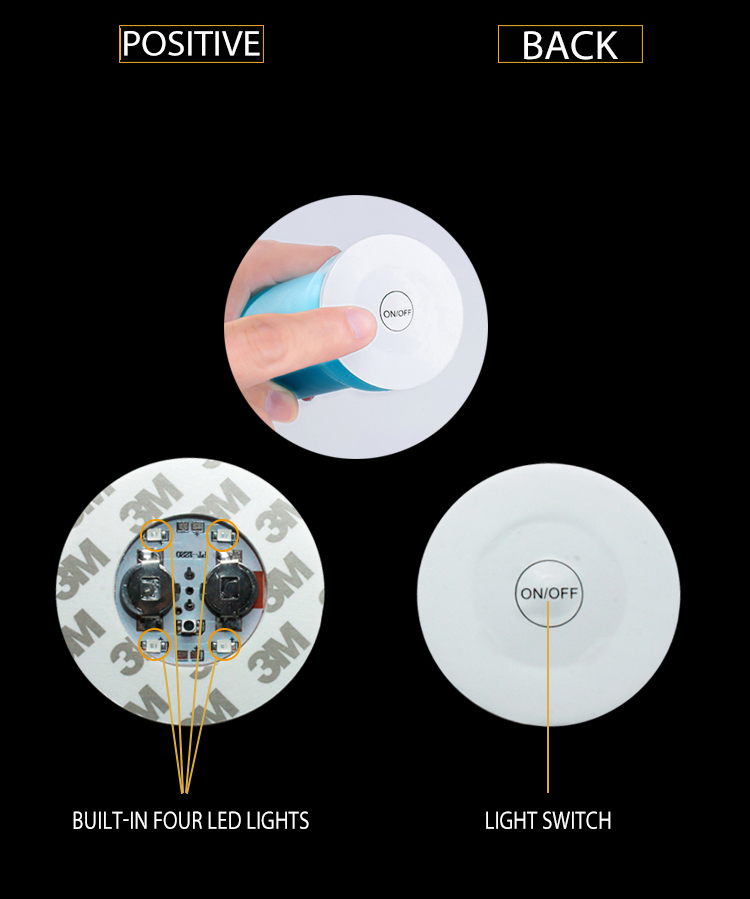 Product packaging: OPP bag independent packaging
Outer box packaging: 3 layers of corrugated paper packaging
Avoid product collision and scratches
This is feedback from Mr. Fagan from Albania
Mr. Fagan is happy to have a bar in Albania where business has been tepid. He has been thinking about how to make the bar business better. It wasn't until May of this year that a friend of his sent him a product from abroad to see if he could use it in his bar. The product name is --led sticker. Sticking the product to the bottom of the bottle and flipping the switch at once makes the entire bottle glow differently, which Mr. Fagan says is exactly what he wants. Mr. Fagan quickly found our contact information from a friend, and confirmed the unit price, LOGO, and delivery date. All the work was carried out in an orderly manner.
Mr. Fagan's bar is now well known locally. He is very grateful for our products. He said that if there is a new product, he must be notified.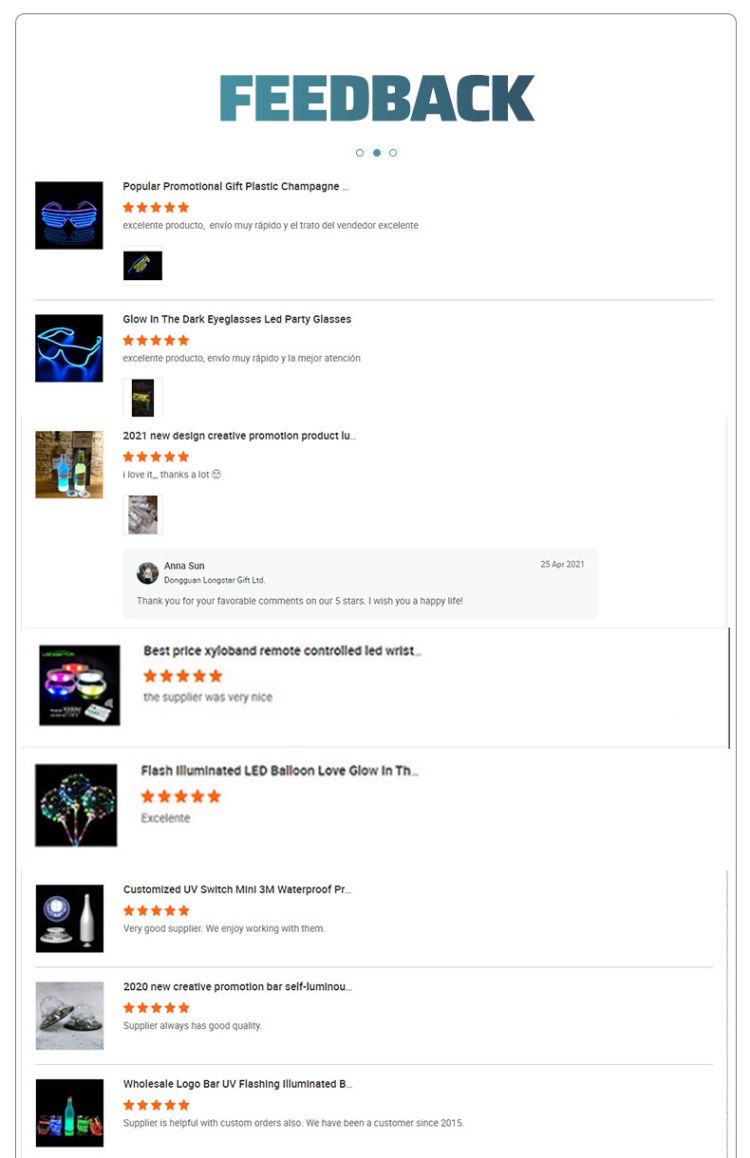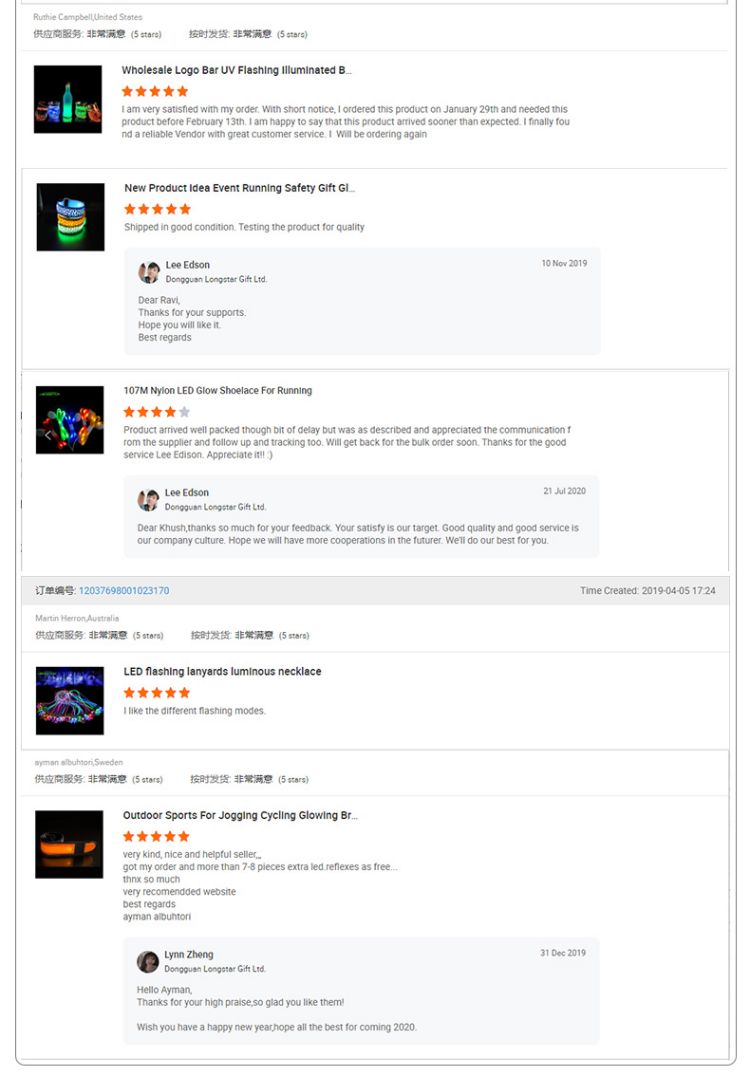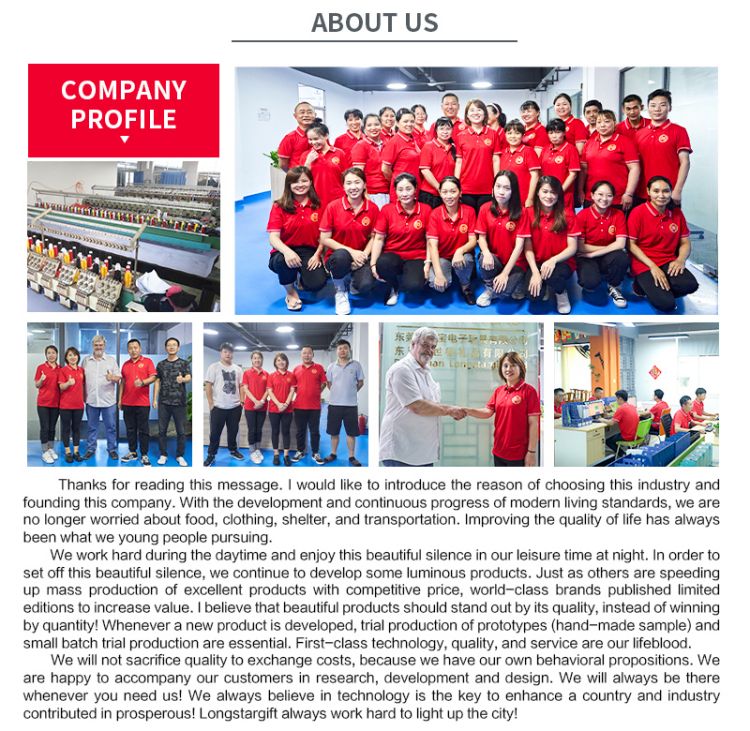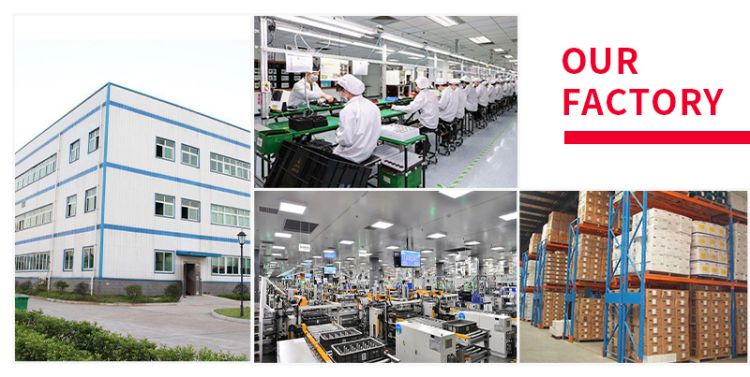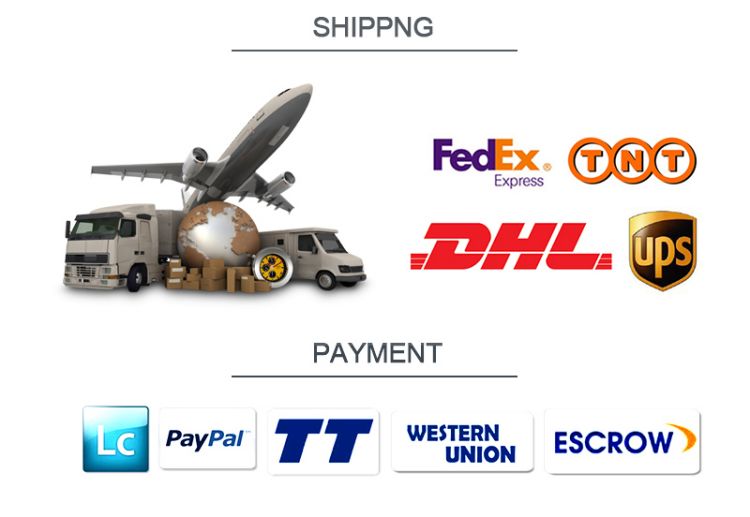 ---
Previous:
Factory direct sale bar nightclub hot sale product new custom waterproof type light emitting atmosphere bottle light led coaster
Next:
Party scene atmosphere active props 800 meters wireless remote control support logo custom led bracelet
---
Write your message here and send it to us